Locations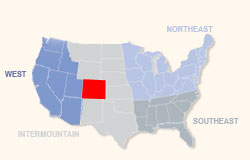 Colorado - Denver - Colorado Springs - Boulder - Longmont - Loveland - Fort Collins Supplying the Front Range for 30 years.
Custom Fence & Supply, Inc. is a family owned and operated business with over 30 years of experience in residential and commercial fencing. Serving the Front Range since 1980, we fence at your convenience with year-round fencing services. We also offer materials and delivery for the "do-it-yourselfer".
We provide ways to beautify your home or business through a customized design that adds an exclusive touch to enhace the style of your area. Fences and gates are the trendy way to make your place safe and to control the access to it while making it more charming and pleasing.
WELCOME TO CUSTOM FENCE AND SUPPLY INC
At Custom Fence and Supply, Inc., we are a full service fence company. We strive to complete your job in a timely manner to your satisfaction with quality materials and workmanship. Quality has been the foundation of our business for over 30 years. Our customers can trust our reputation as a leader in the fence industry throughout the Front Range and beyond.





Fencing, Gates & More
Fencing and gates add value to your home and are also a great way to control access while enhancing the overall appearance of your property.
We are committed to working with our customers in pairing them with a cost effective solution for their fencing needs. Please browse our site and contact one of our specialists once you have made a selection. We can then begin to work together in order to fulfill you style requirements and budget needs.
If you haven´t replaced or installed a fence in a few years, you might be surprised at the wide range of fencing choices available. As you sort through your options you will find it helpful to be clear about the main purpose of your fence project since this will allow you to narrow the range of solutions to consider. There are four broad reasons why people install fences. Consider how many of these factors apply to your project. These factors are security & access control, privacy, ornamentation and pool safety.
Once you determine what your needs are, you can choose from a variety of available materials. We can provide you with all of the fencing materials you may require. Please don't hesitate to give us a call!